What's Included?

At Dropcards, we provide you with all of the basics you'd expect for a download card campaign and much more.

Of course, at the center of everything are the cards themselves. Our standard cards are printed on .30 mil plastic, which is the same high quality card as your most common gift cards or bank cards. We also offer cardstock and other custom materials.

Each card has its own unique code on it that can be used to redeem media files of your choosing at a designated web location.

The Best Web Options

In addition to your custom download cards, we also provide you with the tools to create the website where you cards will be redeemed! You have the choice of using a customizable and dedicated website hosted at Dropcards.com (example: www.dropcards.com/yourbandname) or you can embed our download manager right on your own website.

To store all of your music, photos and video, we offer 500mb of free hosting, standard to all Dropcards orders. Upload your files in any format too! MP3, FLAC, WAV, and more!

Mission Control

The third and final component to your Dropcards campaign is your User Control Dashboard. This key area allows you to monitor and control all aspects of your many download card projects. You can upload and maintain your music and video files, view your cards' redemption statistics in real-time, and see other unique data, such as collected email addresses and your users' locations throughout the country based on their IP address. All of this is displayed in a beautiful and easy-to-use dashboard with with detailed line graphs, gauges and Google Maps that really help you to see the big picture.

Premium Extras

In addition to all of the bells and whistles included standard with every Dropcard order, we also provide a number of custom services to bring your download card project to the next level.

Incorporate elements such as a contest, sweepstakes or survey data collection by commissioning a custom landing page, bulk up your retail cards with unique packaging or simply make your card stand out from the pack with a custom diecut shape.

Now learn about what you can use your Dropcards for!
Our services include:
Download card manufacturing and fulfillment.
Digital media hosting and delivery through our exclusive Dropcards platform.
Project management and customer service.
Custom landing page design and development.
Five reasons to choose Dropcards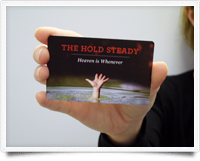 Since our inception in 2004, we have seen the download card market reach new highs. Learn more about what separates Dropcards from the competition.
Read More