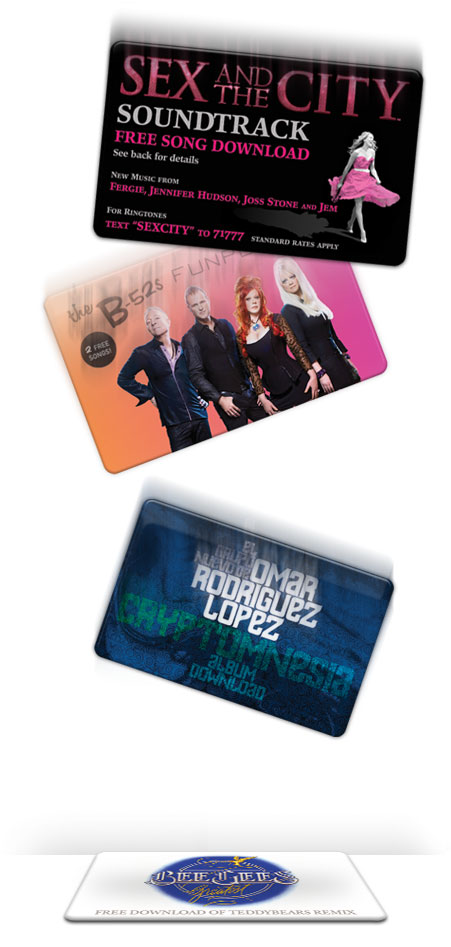 Five Reasons For Dropcards...
Dropcards' download card solutions have become so popular that as a consumer you have more choices than ever. Some companies like to make complicated charts comparing themselves to us to get your business but we're simple folk. Here are five reasons why we think you'll be happy choosing Dropcards:
because we've been doing this for a really long time.
Operating as Dropcards since 2004 and printing plastic cards since 1994, our experience alone makes Dropcards the easy choice for your download cards. Unlike traditional formats such as CDs or albums, manufacturing is only half of the equation. Will your download card provider still be around in a year? Two years? Ten? What happens to all of your cards when they're long gone?
because we do everything under one roof.
All of our services, printing, hosting, development and customer service are all facilitated under one roof. Because we aren't brokering your business and with no middlemen involved, the exceptional service that you need - fast turnarounds, custom requests, and first rate customer service - is standard here.
because you can customize everything.
At Dropcards, we want everything to be about the customer so we allow you to customize everything! Design your cards, front and back, however you'd like. Make your redemption website look exactly how you want it to. In fact, our industry-first embeddable redemption widget allows you to even drive the traffic right to your own website. Why spend your money driving traffic to some other download store or to some boring, generic landing page?
because this is all that we do.
As simple as it sounds, all we do is make download cards. No CDs, t-shirts, records, posters, snow hats or whoopie cushions with your name on them. Keeping it simple like this allows us to do one thing and do it really, really well. We like it that way.
because everyone else does.
We know that your mother taught you not to give into peer pressure but there's a reason that some of the worlds largest companies choose Dropcards to power their download card projects. We're just really good at what we do and we don't mind saying so. Sorry mom!
Our services include:
Download card manufacturing and fulfillment.
Digital media hosting and delivery through our exclusive Dropcards platform.
Project management and customer service.
Custom landing page design and development.
Get Started
Heard enough and just want to get started? It's easy! Our simple Getting Started section allows you to sign up for a free account, contact one of Dropcards' helpful (and knowledgeable) team members, or check out a quick tutorial of the entire Dropcards experience.
Get Started